FOB Qingdao Price

$2000.00 – $3500.00

/ Set

MOQ
1
Lead time
7 days
Warranty
12 Months
Busbar Punching Bending Cutting Machine
Details of Busbar Punching Bending Cutting Machine
1.Independent working position, bending, punching, cutting, etc. do not interfere with each other, which greatly improves work efficiency
2.High-precision punching die frame to extend the service life of the die.
3.Equipped with a scale table to read the bending angle, improve accuracy and avoid excessive bending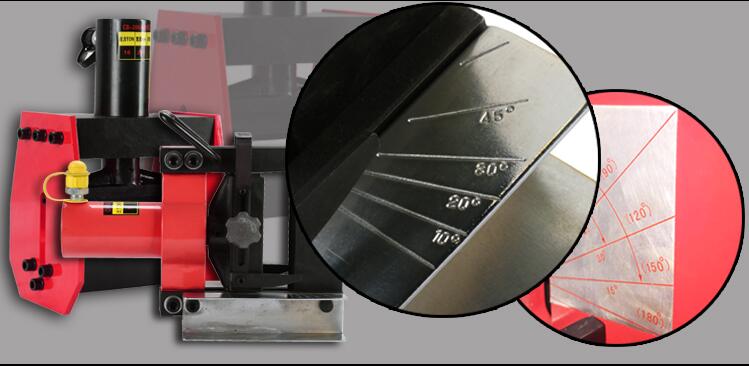 The hydraulic oil tank adopts thick steel plate welding and phosphating treatment so that the oil tank will not be deformed after long-term use
The tubing is wrapped with damping material to prevent the tubing from twisting and breaking.
All-copper motor, high working efficiency, and stable operation
7.360-degree displacement casters can facilitate mobile operations. Can also be locked and fixed.

SHUOHAO also offers Portable Busbar Bending Machine, 3 in 1 Busbar Machine.
Model
DHY-150D
DHY-200
Three functions
Cutter (CWC-150) Puncher (CH-60) Bender (CB-150D)
Cutter (CWC-200) Puncher (CH-70) Bender (CB-200A)
Mobile table size
700*700*1100mm  (L*W*H)
850*750*1100mm  (L*W*H)
Input voltage
Single phase, 50HZ,220V(380V)
Machine total weight
170 KG
200 KG
Rated working oil pressure
700KGF/CM2 10000PSI
Processing thickness range
3-10mm of copper and aluminum busbar

3-6mm of Iron plate

3-12mm of copper and aluminum busbar

3-10mm of Iron plate

Cutter force
20TON
30 TON
Cutting and bending range
Copper and aluminum busbar ≦150*10mm
Copper and aluminum busbar ≦200*12mm
Bending force
16T
30T
Bending angle
0-90 degree
Punching force
31 TON
35 TON
Distance from hole center to edge of busbar
95mm
110mm
Standard punching dies
Φ7mm,Φ9mm,Φ10.5mm,Φ13.8mm,Φ17mm,Φ20.5mm

Other size can be customized

Other accessories
Can be equipped with Embossing
Busbar ≦150*12.5mm  working force:55T  working stoke:26mm

Net weight: 38KG

Equipped with 300 type Crimping Tool
Crimping range:16-300mm2  Max.working stoke:20mm

Crimping tool weight: 15KG  Mold: 16, 25, 35, 50, 70, 95, 120, 150 ,185, 240, 320, 400mm2

Equipped with 400 type Crimping Tool
Crimping range:16-400mm2  Max.working stoke:22mm

Crimping tool weight: 16KG  Mold: 16, 25, 35, 50, 70, 95, 120, 150 ,185, 240, 320mm2

Equipped with flat and vertical bending tool
Max. Working stoke: 200mm  bending range: copper and aluminum busbar width 40, 50 ,60, 80, 100, 120mm  Thickness:4-12mm

Bending angle: D>90 degree any angle

Bending radius R=bubsar width *2.5

Weight:80 KG